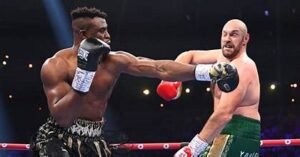 In a thrilling and unanticipated spectacle, the reigning WBC heavyweight champion, Tyson Fury, engaged in a boxing match against the MMA powerhouse Francis Ngannou, who was making his debut in the boxing world. This long-anticipated showdown, held in Saudi Arabia, was anticipated to be yet another entertaining performance in Fury's illustrious career, but Ngannou proved to be a formidable opponent.
In an intense 10-round battle that transpired into the early hours of Sunday morning, Ngannou defied all odds, pushing Fury to the brink and narrowly missing an upset that would have sent shockwaves through the world of boxing. The fight ultimately concluded with a judge's decision, as Juan Carlos Pelayo of Mexico scored the bout 96-93 in favor of Fury, Alan Krebs of the United States awarded a 95-94 victory to Fury, and Ed Garner of Canada declared Ngannou the victor with a score of 95-94.
The British boxing sensation, Tyson Fury, maintained his undefeated status with a record of 34-0-1 and 24 knockouts. Ngannou, a UFC veteran with a record of 17-3, exhibited incredible strength and resilience throughout the fight. He achieved a stunning knockdown of Fury in the third round, a remarkable feat in itself. Ngannou displayed his prowess by landing powerful shots, with a notable advantage in power punches (37-32), though Fury edged ahead with more punches overall (71-59).
Following the match, Tyson Fury acknowledged his opponent's remarkable performance, admitting that it was unexpected, "Francis is a hell of a fighter—stronger, big puncher, and a lot better boxer than we all thought he would ever be."
For Ngannou, the debut into the world of professional boxing was met with pride and optimism. Though the victory eluded him, he expressed gratitude for the opportunity and the support from the kingdom of Saudi Arabia. He declared, "It didn't go my way, but I want to thank … the kingdom of Saudi Arabia (for) the opportunity to prove people wrong one more time."
The surprising showdown was not without its moments of drama. Fury initially relied on his jab and briefly switched to a southpaw stance in the second round, responding to Ngannou's aggressive start. Ngannou's early success included opening a cut above Fury's left eye. The most memorable moment of the fight occurred with 43 seconds left in the third round when Ngannou delivered a powerful left hook that sent Fury to the canvas, marking the seventh knockdown of his career.
Despite Fury's early dominance, Ngannou's resilience and a sequence of powerful punches in the eighth round intensified the battle. Fans chanted "Francis! Francis!" early in the 10th round, signaling their appreciation for a fight that exceeded expectations.
In an event graced by celebrities like Kanye West, Eminem, Cristiano Ronaldo, Conor McGregor, and boxing legends such as Sugar Ray Leonard and Manny Pacquiao, the fight was the latest adventure for Fury, known for his ventures in WWE and a Netflix reality series. Reportedly offered $50 million for the fight, Fury was instrumental in launching the country's entertainment festival known as Riyadh Season.
The Kingdom of Saudi Arabia ensured that the event was nothing short of spectacular. The fight took place within the Kingdom Arena, a 26,000-seat venue, while the preliminary bouts were held in an outdoor arena constructed especially for the night. The atmosphere was electrifying, with performances by recording artists Lil Baby and Becky G before the main event.
In essence, while Fury may have appeared to be in his element in the boxing ring, Ngannou's transition from the octagon to the boxing ring was a significant shift. To prepare for this monumental debut, the former UFC heavyweight champion received guidance from none other than the legendary former heavyweight champion, Mike Tyson, who was also present at the event. Ngannou's participation in this match was particularly noteworthy because it marked not only his introduction to the boxing world but also his return to competitive fighting after his victory against Ciryl Gane at UFC 270 in January 2022.
As Ngannou reflected on his debut in the sport, he expressed his commitment to working even harder and improving his game. He stated, "I know I've come up short, but I'm going to go back and work harder with a little more experience this time, a little more feeling of the game and come back stronger. This is a new sport that I never did, that I never fit. Now I know I can do this (expletive)."
The bout between Tyson Fury and Francis Ngannou captured the imagination of fans worldwide, igniting discussions about the versatility and adaptability of athletes from different combat sports. It showcased the indomitable spirit of both fighters and left the audience eagerly awaiting their next challenges and triumphs in the world of sports.